Do you want to explore the exciting world of steel construction, but don't know where to start? A good start would already be the acquisition of a welding machine. Yes, but which one? What type, what power?
Tool category: Soldering station
Difficulty level: 3/5 (1/5 is very easy to achieve)
Areas of application: renovation / construction / furniture manufacturing
Here is a short guide that will help you better understand
There are a multitude of welding stations (MIG-MAG, TIG, MMA), but here I will only talk about the MMA (manual metal arc) welding machine.
This type of welding machine is aimed at beginner or occasional welders who wish to weld steel or its derivatives such as cast iron or stainless steel. However, it is not possible to weld aluminum or copper with these machines.
Why choose this guy at the start?
There are two main reasons for this:
The first is the budget because the prices of the electrode holders are affordable and the consumables (i.e. the electrodes) are still cheap.
The second reason is the ease of use. Even if to acquire the technique itself, you will need a little practice and experience, it's simple, it is set with a single button and you will weld!
This article will open the doors to great building and achievement opportunities, and will undoubtedly be your DIY companion for years to come.
In short, which welding machine to choose?
Here are the main characteristics to take into account to choose the right one:
Technology
The power
Power factor
Technology:
There are two categories of arc welding machines, traditional substations and inverter substations.
I advise you to choose an MMA investor without hesitation, it is neither more nor less than the evolution of the traditional. It incorporates electronic components making it possible, on the one hand, to reduce its bulk, but above all to greatly facilitate welding by regulating the intensity, while avoiding the problems that could be encountered with a traditional welding machine. Indeed, an inverter facilitates the initiation of the weld and the risk of sticking the rod. Its cost is slightly higher, but the investment is worth it.
Power:
Sometimes it is a little difficult to have all the powers offered. Power is expressed in amps, this determines the largest diameter of the electrodes that you can use and therefore the maximum thickness of metal that you can weld properly.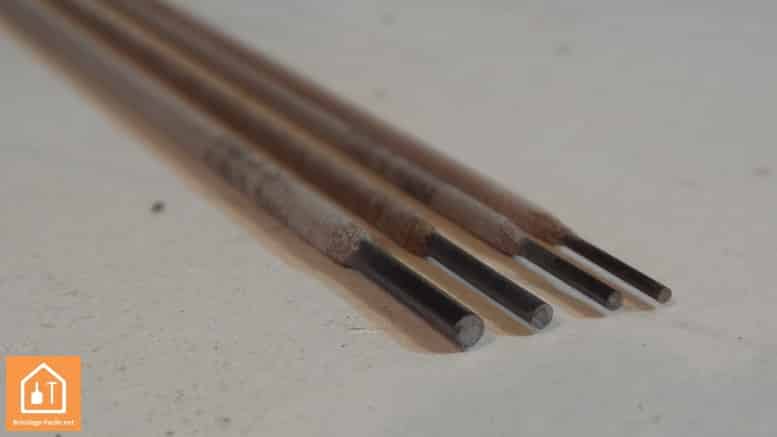 Remember, if you want to weld 1mm and 10mm steel, a station that can supply 130 amps will suffice. It will allow you to use 3.2 diameter electrodes which is sufficient in most cases. However, if you need to weld with a 4mm diameter rod, 2 passes with a 3.2 rod will suffice, so you don't have to buy a bigger one.
Duty cycle:
It is, along with the power, an important characteristic in the choice of the station. The duty cycle is often summarized in a table. Determine, for a given amperage, the maximum usage time and the rest time necessary to cool the station.
The value of the duty cycle is expressed in%, if it is kept at 100%, it means that it can be used continuously, but if the value is lower, a rest period is required. For example, if the table indicates 70% at 100A, it means that you will be able to use your station 7 minutes out of 10 and that you will have to let it cool for 3 minutes.
Therefore, I would advise you to choose the soldering station according to your use and budget, because of course, the more it can be used without rest, the higher the price. However, keep in mind that it is rare for occasional maintenance personnel to weld continuously. Most of the time, between two welds, we clean the weld, prepare the other parts, suddenly the station has time to cool down with its ventilation system.
In conclusion:
A typical station inverter with a power of 130 A it will suffice for a small maintenance staff and will give you complete satisfaction. It will allow you a multitude of projects ranging from simple metal supports to larger projects like a table top or a railing. The investment is relatively low compared to the large number of possible projects that can be done with a welding machine.
Our selection :
To get started, some welding machines
Arc welding machine Stamos Germany S-MMA-250PI.2 Inverter Welder MMA Welding Welding (250A, 230V, LED display, hot start, IGBT, 8m cable) Price: 159.00 EUR
Stanley 460099 Star 2500 Inverter MMA Welder Price: 97.62 EUR
Gys GYSMI 160P + LCD 11 Liquid crystal inverter welding machine and soldering mask Price: EUR 209.00
Stanley 460081 Bypass Soldering Station Price: 89.99 Price: 99.99 EUR
Plus some essential accessories, at least to protect and weld them safely
Stanley 460413 Self-adhesive LCD cover for DIN 9-13 welding Price: EUR 42.43 Order price: EUR 66.82
Gys-Traditionnelle / 110-2.5 rutile steel electrode Price: 10.69 EUR Old price: 23.10 EUR
Silverline 742076 Welding Gloves 330mm Price: EUR 6.83 Starting price: EUR 8.50
Links to other tips:
Find more advice in the section dedicated to power tools. If you also want information on other tools, here are also all my guides, in the Tools section
Note:
For all welding work, remember to wear adequate protection.